This article is part of a series featuring some of this year's outstanding graduating students, nominated by their academic school or college or another University program in which they participated. Check for additional profiles of students in the Class of 2013 on UConn Today from now through Commencement.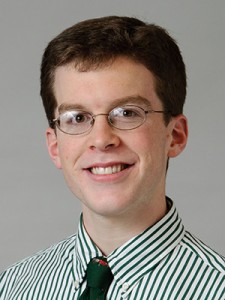 It's not much of a stretch to say Joe Williamson was born to be a teacher.
His mother, grandmother, and grandfather were all teachers. And even as a teen at Greenwich High School, he spent much of his free time helping and nurturing others. He volunteered as a music camp counselor, interned at a middle school, and spent much of his senior year teaching underclassmen the practical and interpersonal skills needed to publish Greenwich High's yearbook, of which he was the editor.
Almost as natural were his decisions to apply to UConn's Neag School of Education and focus his coursework for the Integrated Bachelor's/Master's Teacher Preparation Program on social studies.
"My mother is a Neag graduate, and social studies has always been my favorite subject," says Williamson. "I've been reading history books and biographies for as long as I've been able to read."
Joe Williamson '13 (ED). (Peter Morenus/UConn Photo)
Williamson, who graduates with his bachelor's degree in education this May and will study for his master's degree next year, has made the most of both the academic and the extracurricular activities offered at UConn. In addition to being on the dean's list, he is a four-year member of UConn's Marching and Pep bands.
"Not every university gives education students the kinds of opportunities that Neag students receive," he says.
Since September, he has been student teaching at Edwin O. Smith High School in Storrs. "This semester, I've worked full-time as a teacher, creating lessons, teaching them, and working alongside master educators who provide critiques and guidance that will only make me stronger and better in the future. All of the education I've received has been great, but the student teaching experience has made all the difference, as it's given me the chance to bring the lessons I've learned from my professors to life."
That idea of bringing lessons to life and making learning real, is something Williamson not just appreciates, but works to achieve when he's at the head of the classroom. A Connecticut history buff, he made learning about Mansfield-area history one of his priorities when he arrived at Storrs as a freshman, and now incorporates it into his social studies lessons.
Because of this, the E.O. Smith freshmen and juniors he teaches now know that the Eagle Manufacturing Company on South Eagleville Road produced rifle parts during the Civil War, and that Mansfield was once the silk-making capital of America.
"When you're teaching students who like social studies, it doesn't matter as much whether you're a good teacher or a terrible teacher, because they're going to be interested. What I'm working to do is create lessons for the kids who don't like history – to get them excited and engaged, and to make the learning experience interesting and meaningful for them," Williamson says. "I try to connect the past to the present, and to show how history is part of what they experience every day."
Williamson credits his Neag professors for not just telling him what it takes to succeed as an educator, but showing him as well: "Neag professors are role models. Their lessons are creative, interesting, and serve as great examples of effective teaching. I'm confident that because of the education I received at UConn, there will be a job for me when I graduate, and I'll be well-prepared to succeed at it."
---